With an easy to use operation interface, you can make a flash flip book in a just few mouse clicks! Even if you are a new user, you can use it expertly without any special learning. With multiple professional functions, you can create a flip book with different kinds of features which makes it unique out of others.
Boxoft Digital Magazine Maker also enables you to add a password to flip book so that others can not view your flip book without permission. It provides you a way to protect your publications from unauthorized access. After you set a password, your readers or viewers need to type a password when opening the protected flip book.
If you are eager to convert PDF to vivid flipbook, just use this flipbook software.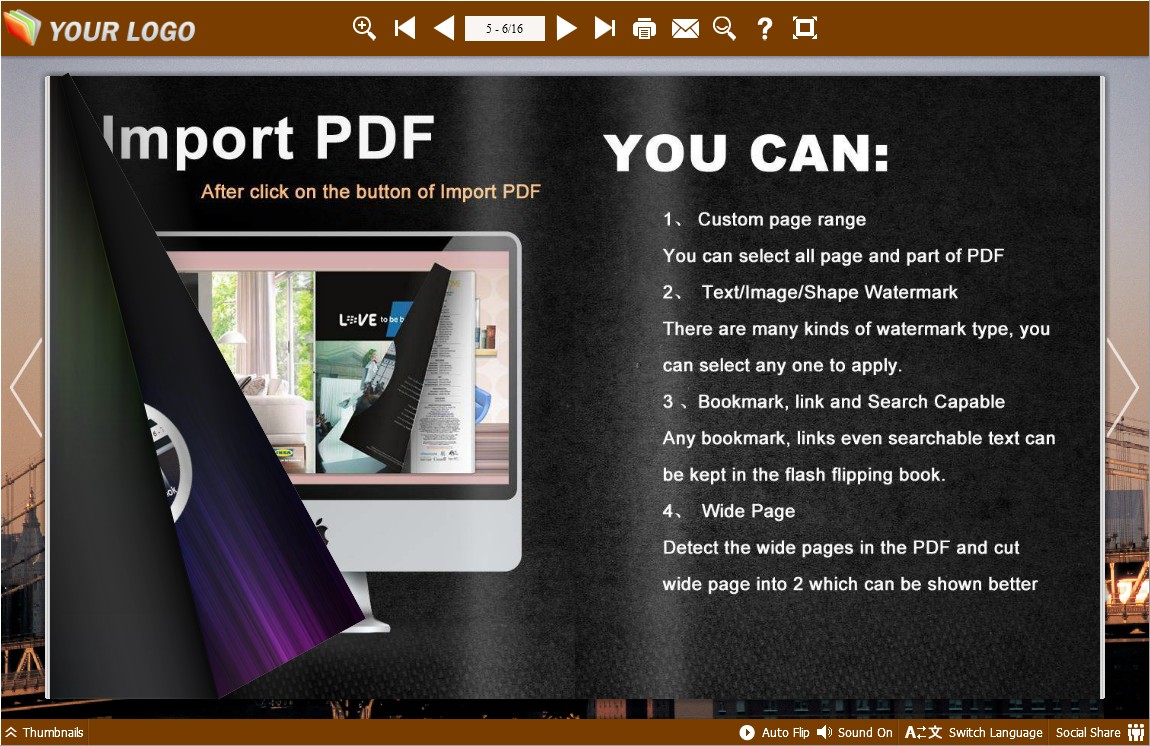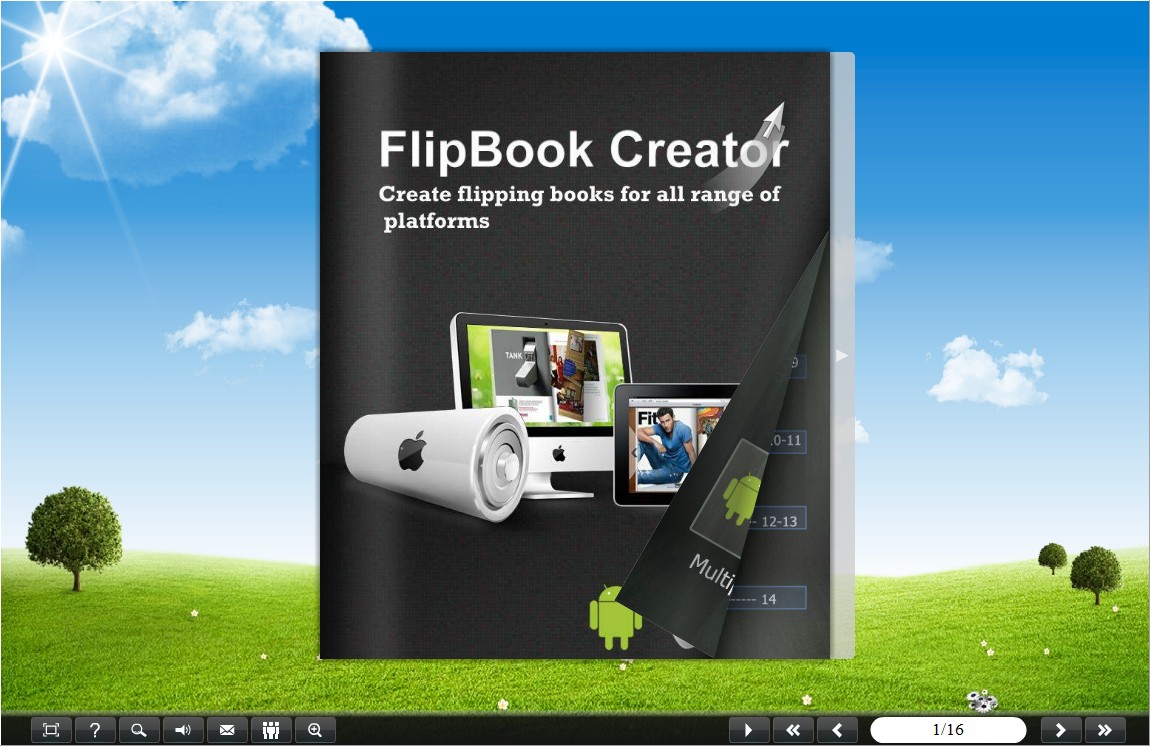 What's more, Boxoft Digital Magazine Maker also provides you with a powerful function: Multiple languages in user interface. Boxoft Digital Magazine Maker supports more than 10 languages for the operation interface of flip book. Moreover, you can also add a new one or edit it.

 

However, if you want to convert PDF to splendid 3D flipping book, you can try digital magazine maker .
1. Support text watermark with macro (dynamic text)
2. Underlay company logos as a watermark.
3. Supports opacity (transparent watermarks) for text and images.
4. Add image stamps like Approved, Draft and Internal Only.
5. Support text, image, graphics, PDF watermark
6. Add text stamps as headers and footers.
7. Support image stamps with various image formats (eg. TIFF, JPEG, GIF, BMP, PNG, JPEG2000, TGA, PCX, WMF, EMFimage formats)
8. Support create dynamic Datetime watermark;
9. Replace or mask areas of the page by overlaying stamps.
10. Supports watermarks at any position on the page. Includes header, center and footer
11. Add Bates numbering and page numbering.
12. Support add watermark to part of pages, e.g. odd pages.
13. Support Font Style, Font Size, Text Modes (outline), Font Color.
14. Stamp can be placed in the exact vertical center of a page.
15. Enabling you to easily position the stamp in any location on the page
16. Supports watermark and print a range of pages one step at a time without modifying the original pdf file.
17. Rotate watermark in any angle.
Specify start and ending page numbers (page range) to be added watermarks
18. Text watermark support static and dynamic text, with dynamic text, you can use PDF file name, metadata information, and date time as the watermark
19. Supports multiple line text stamps within one stamp item
20. Image size can be increased or decreased. No need to adjust the image size in another application before the stamp
21. Wrap text to a new line if it would otherwise be too long to fit in its margined area
22. Supports links (web links, page link).
23. Justification (when multi text)- Left, right, or center
24. Previewing stamps in the PDF Stamp GUI version
25. Support the encrypted PDF file.
26. Support Batch convert.
27. Support drag and drop files.