1 Free page flip software to create unique e-publication from Text file.
Boxoft Free Flash Flip Book is totally freeware that's mean you can convert text files to flash flipbook without any money cost. We can give 100% confidence to you, there is no hidden charges, no function deficit and no third-party software. Just import text file into Boxoft Free Flash Flip Book, then you can output digital book with cool page-flipping effect.
2 Easy-to-use without program knowledge
Your work was hard enough, why have to spend so much time to creating flip book? From now on, you can use Boxoft Free Flash Flip Book to create page flipbook easily. Just three steps, no harder program skills need. Step 1: import your text files into the page flip software; Step 2: edit the flash book with stunning template; Step 3: output an attractive page flip book.
3 Build-in Template and themes
Boxoft Free Flash Flip Book gives you many choices to create page flipbook from Text file. After you import Text file, you can design the flash book's interface by yourself or use provided stunning template. There are thousands of pre-designed flipbook templates and flipbook theme for free using.
4 HTML, ZIP and EXE output format
Want to create a HTML format product brochures, you can upload it online and let your customer reading conveniently? Using Boxoft Free Flash Flip Book, you can output flipbook as html, Zip, and Exe format, easy for you to upload online, share by email and storing on computer.
Friendly Recommend – 3D PageFlip Professional
Wonderful page flip software to create flash flipbook from PDF files.
A successful page flipbook can capture the demands of listeners, viewers and readers. It often makes people feel good and will spent more time on this brochure. While there are so many resemble information and products providers on the worldwide market, flash publication with cool page flipping effect is definitely an unavoidable way to grow your clients.
To make unique publications with embedded clickable link, multi-media and logo, please look more information of page flip software at 3dpageflip.com.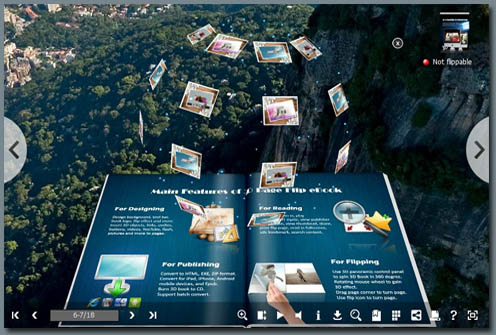 Various Text Import Options
1. Easy and quickly upload Text files from computer directly;
2. Custom the page range, choose any pages import as you want;
3. Quickly PDF pages import, import 10 pages to initial preview;
4. Choose the page quality and size, various size modes for your choice;
5. Create search engine friendly content, enable readers search relevance content in flash page-flipping book;
6. Detect landscape page to present as two-page spread.
Customize the flash template
1. Save the design settings for feature use;
2. Import the flash templates which you can download from our website or the previous reserves;
3. Book settings feature
a.Book Title settings, add book logo and logo URL in flash flip book;
b.Book Proportions settings custom the page width and height;
c.Hide book Frame Bar. Make you flash flip book seem sample;
Enable readers flip you flash book right to left;
d.Create Hard Cover for you flash flip book;
Retain the book to the center, add commercial Ads on the left;
e.Flipping Time Settings: Control the flipping time for you flip book;
f.Minime Style setting, create mini flash page-flipping book for web use.
4. Flash Display settings
a.Control flip book pages pre thickness and background Alpha;
b.Font settings custom flip book font color, button font and page index font color;
c.Background settings define the background bar color,thumbnail background color, and page background color;
d.Add Outer background file and Inner Background file and define set them position;
e.Insert background sound to make the flash flip book animated.

 

5. Flash Control Settings

a.Security settings: Add single password to protect any pages as you want exclude front page;
b.Links settings: Define the mouse over color, custom link open window and enable after zooming in;
c.Add Google Analytics ID: analytics you flash page-flipping book visitor volume.

 

User-friendly interface & Convenient view mode

1. User-friendly interface and convenient view mode allow readers comfortable reading flash page-flipping book and attractive more potential customers;
2. Thumbnails are reduced-size versions of pictures to help recognizing and organizing flip digital book;
3. Create a multi-level bookmark for flipbook readers to quickly location the content;
4. Zoom in, zoom out to zoom in/out the flash page-flipping book page;
5. Full screen function enable flip book applied to the entire screen;
6. Single page and double page view mode provide convenient way to reading the flip book;
7. Click "Auto flip" button to automatic flip your flash slideshow.

 

Various format output

1. Output your PDF to flip book as HTML, EXE, and ZIP;
2. The HTML allows you to upload to a website to be viewed online;
3. Package it as ZIP format for quick email;
4. Output it as stand-alone EXE for CD delivery.