If you are searching for software that make digital reading different, Boxoft Free Flip Book Software will be a good choice! It is free, simple-to-use and has a user-friendly interface. The software can be divided into three parts. The tool bar, the preview interface and design settings part. This three parts work together to maximize the quality of the final effects which will make your flipping book more realistic and more functional.
The following illustration can show you why an electronic flipbook is worth reading and designing by you! Launch Flash Flip Book Maker and let's get close to it. The Concise interface with useful basic reading functions is like an intimate assistant to help improve your reading efficiency. Full screen and zoom in features offer you clearer flip page. Search engineer is build-in the software for text content searching! The designed background will beatify your digital flash flip book! Visitors can easily drag page to flip in a vivid effect! As the needs of most people, the output flip book can be published online through sharing with your friends or issuing via cloud flexibly. Thatis why flipbook software popular today. Though it not the most perfect tool, it has brought a lot to users and flipbook publishers since its free and its worthy functions.
In addition, if you are pursuing a more professional tool, you can consider 3D PageFlip Professional. This is another flipbook software to turn PDF to functional flash 3D eBook which owns 3D visions in a basic flipping book! If you are interested in embedding 3D models, 3D image sphere gallery, or other 3D objects in a page turning book or editing flip page to add more multimedia contents, you can try this 3D 3dpageflip converter!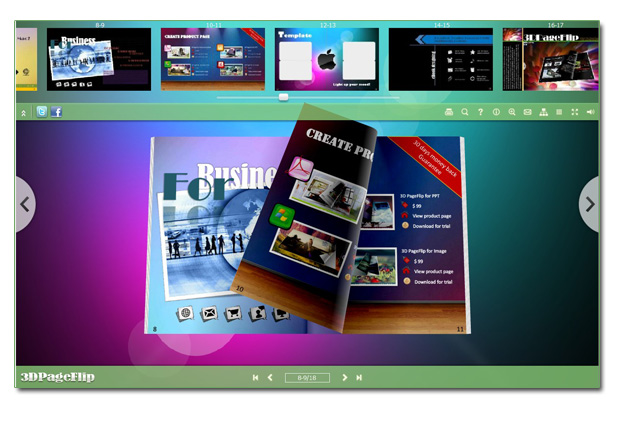 Features:
1. Build animated page for flipbook
2. Bring real-book-like reading experience.
3. Support to create bookmark and retain content links.
4. Enable searching text content in the flipping book.
5. Powerful import function to define page quality and set page watermark.
6. Three templates for decorating flash flip book
7. Define eBook author information.
8. Multiple design settings to customize the flip book appearance
9. Enable to define background images and audios.
10. Define visual buttons, hide or show.
11. Set security for flip book page, add your password.
12. Read flash book with full screen vision
13. Flexible output options: HTML, ZIP, EXE.
14. Enable to change hard cover for page flip book