Do you want to design gift for others? Would you like to create wonderful digital magazine to commemorate your unforgettable experience? Or would you like to publish eBook online with realistic look for sharing? Look here, Boxoft Flip Page Creator, a simple but useful freeware will help you do so! It is a document converter to create digital book with page-flipping effect. It will help you to transfer simple text documents to vivid interactive flipping book with personalized layout which can be designed by you! And it will offer you comprehensive solutions for publishing online and offline!
In our daily life, we used text document to record many information. We create data, message, article, diary, or other information to restore what we want to remember. We share it with our customer, send it to our friend or take it as secret. However, do you want to make some changes for the current documents? Like creating a wonderful layout to draw your worth-reading content more attractive! Now, this free Flip Page Creator will offer some choice for you. Actually, it is not the greatest one but it is the useful one since it costs no money and caters to our basic conversion needs. Just simply import your text document and then have a nice design. Then you will get a fantastic with own style background, nice accompanist, defined tool bar color, individualized flip effect, etc. Readers can enjoy such real-book like publication by dragging its page corner to flip with true flip sound. In addition, with such eBook created by Flip Page Creator, viewers can easily share it through email, publish it online, or read it with an executable program. That is what Flip Page Creator brings to you! Get start from here and flip your unromantic text document up to amazing flip e-magazine, e-brochure, e-newsletter and more!
However, are you interested in updating a flipbook mentioned above to a 3D one, which will bring you more than page turning effect in a flipping book! How about creating a 3D background as animation scene to replace your image background? How about spinning the flip book with 360 degree! How about embedding 3D Image Gallery to the flip PDF and make it pop-up while someone enters that page? Here, 3D PageFlip Professional, another flip page creator with full of 3D visions, will help you! Get to know more about the 3D flipping book creator!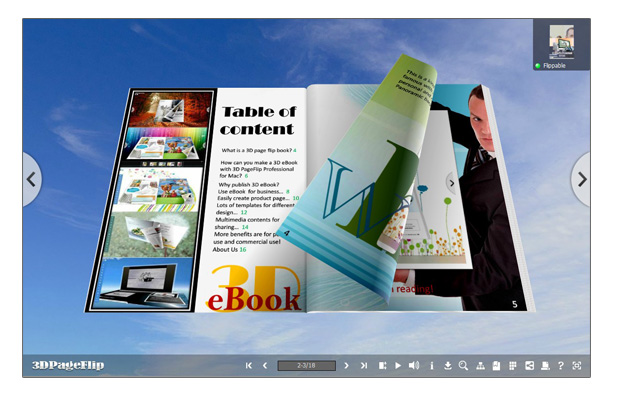 High Speed for text document to page flip book conversion.
Define page quality and size.
Define watermark for flip page, include image and text.
Useful Design Setting Panel for Decorating
Select favorite templates from template library.
Three options for background settings: image, pure color and gradient color.
Define flipping book margin easily.
Define language: make the output eBook readable for local readers!
Create suitable flip speed for the turning pages.
Set home page URL and link it to a targeted website.
Define icon color for reading tool bar.
Display download button to open URL.
Set it to hide or show buttons on the output flipbook.
Define font color, security and more.
Output flip page book for online and offline use
HTML: for uploading flipbook to website.
ZIP: Zip HTML file for email sharing.
EXE: self application for reading on Window System!
Support to burn to CD.